Adding a fresh coat of paint is something every house might benefit from. This is your chance to take on a few simple DIY home projects like a pro if you've been intimidated by a long list of to-dos in the past. DIY projects are achievable even if you think you're a novice handyman. Taking on home improvement projects yourself not only saves you money but also teaches you valuable skills. You may discover new interests and a stronger sense of self-worth due to developing these skills. DIY at home may also be a way to express yourself uniquely and personally.
Paint the front door of your house
Your house will have a brighter first impression with a freshly painted front entrance. Before painting, take the door off its hinges if possible. Preparation includes sanding, washing, and drying the surface. Doorknobs and hinges should be removed, and glass panes should be covered up. Apply a primer, depending on your preference. Let it dry between coats, and you'll be good to go. Rehang the door when the last coat of paint has dried.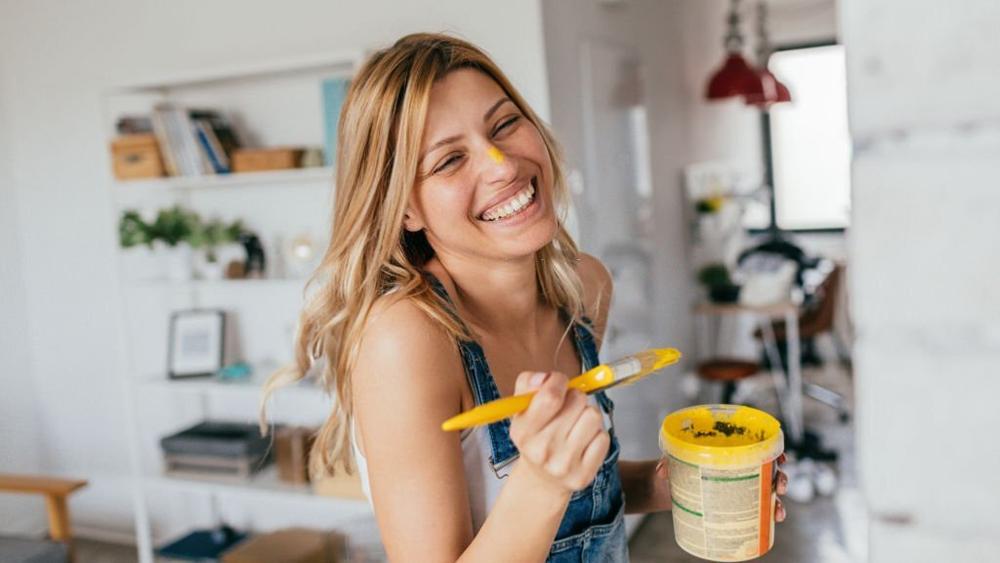 Build a shelf in your house
Add a shelf to your room, and you'll get both purpose and aesthetics in the shape of storage. Determine where you want to hang a shelf and the size of the shelf that you want to build. A stud in the wall is preferable, but you can use drywall anchors if the shelf isn't putting too much weight on it. Brackets can provide additional support for shelves that are longer or that have a greater weight capacity. You'll need to know how tall you want it to be and how far between your brackets should be. Before fastening the brackets into place, drill pilot holes for the screws. Shelves can be secured with screws or by resting them on stands.
Improve the ambiance of your kitchen
Adding a new light fixture to a dining area may instantly transform the space. Your simplest method is to replace an existing fixture: Connect the wires after turning off the electricity at the breaker box. In order to update the look of your room, all you need to do is hang a new light fixture. When selecting kitchen light fixtures, keep their aesthetics and functionality in mind. Keep in mind that the amount of light you let in your house has a significant impact on the overall ambiance of your house. Consequently, by designing your windows to maximize the natural light, you can sell your house at a higher price.
Replace the faucet in your kitchen
Make your everyday routine a little more elegant with a faucet that looks and performs better than the rest. Make certain that the new sink's configuration matches the old one. Otherwise, you may have to replace the old one as well. The best way to prepare a new sink for use is to install a faucet and other hardware on it before it is installed in its final location. Buying a new sink allows you to modify the number of holes to fit the faucet you desire.
Upgrade the flooring of your house
Choose a flooring option that won't take more than a weekend to install instead. Start with sheet vinyl, which looks nicer and lasts longer, and then move on to other materials that come in rolls. As a result, loose-lay sheet vinyl is a standout product. It's installed once you've trimmed it down to size and placed it where you want it.
Buying a house in Canada
"Do it yourself" home improvement projects give your house a personal touch. So, they're a perfect reflection of who you are. They are tailored to fit your lifestyle and needs. Charm and character may be added to a home with many DIY projects. DIYing is a viable option when it comes to conserving money, repurposing old and used products, and expressing creativity. However, if you don't feel like rolling up your sleeves and prefer to buy a newly decorated house, Matin Homes, a reliable real estate agency in Vancouver, can help you find such a house. Our professional realtors enlist the newest and poshest houses around Vancouver for you to choose from.